Massage Therapy and Personal Training Program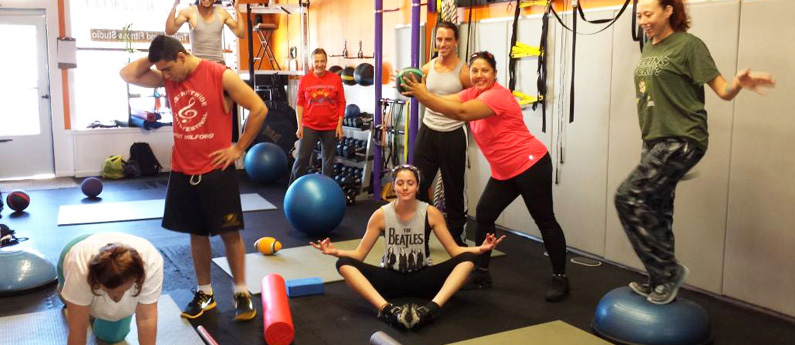 Massage & Personal Trainer Certification (NASM) Course
Our 800-hour Massage Therapy and Personal Training Program contains both classroom teaching and supervised, hands on gym/massage time. It was developed to accommodate the growing need for qualified health and wellness professionals. Together, this gives the student one of the most comprehensive courses to date. This program is also suitable for those who are adding skills to their current profession as health care workers in nursing, massage or other health-related fields.
Upon completion of this program, graduates will have received extensive knowledge in the art and science of human movement, nutrition, exercise and bodywork. You will also have the ability to perform massage for wellness and sports, the testing skills to assess a client's state of fitness, and the knowledge and practical experience to recommend and implement a safe fitness, nutritional, weight management and wellness program in a variety of settings.
All graduates who successfully complete the program will receive an Institute for Therapeutic Massage Therapy and Personal Training Certificate, be prepared to take the national certification examination given by the National Academy of Sports Medicine (NASM) and The National Certification Exam for Therapeutic Massage and Bodywork (NCETMB). They will also qualify for New Jersey State Licensure as a massage therapist.
Financial aid available for those who qualify.
If you're looking to become certified for personal training only, the course can also be taken as a stand alone option without the licensed massage therapist program.  To learn more and find out what the best options are for you, speak to a knowledgeable ITM representative by calling us or filing out the form on this page to get more information.
Weekend Classes
Pregnancy and Exercise
Students will gain a thorough understanding of the physiologic adaptations that occur with regards to pregnancy and how it effects exercise.  Students will learn contraindications for exercise during pregnancy as well as the recommendations established by the American College of Obstetricians and Gynecologists.
Children, Adolescents & Exercise
Students will gain a thorough understanding of the exercise response in children and adolescents.  Common field tests will be introduced to the student to assess components of physical activity.  Students will also learn the benefits of, and how to apply the FITT principle for exercise programming along with the necessary safety considerations.  This class combines lecture with hands on experience.
Exercise and The Older Adult
Upon completion of this course, each student will understand the basic theories and concepts of aging, and how it relates to exercise.  They will also be able to identify and utilize different techniques and strategies in developing exercise programs along with learning how to administer the Senior Fitness Test for older adults.
Students will learn how to work with clients who have Parkinson's, Alzheimer's, Osteoporosis, Cancer and AIDS. Field experiences involving older adults in fitness settings will be included in this course.
Exercise and Special Populations
Certain clinical conditions may require modifications in the type of exercise programming prescribed.  Students will gain the knowledge and skill necessary to work with people who have obesity, hypertension, diabetes mellitus, peripheral vascular disease, and certain cardiac conditions.
Group Exercise Weekend
Students will learn how to conduct and lead a group exercise class.  The following classes will be taught:  low impact aerobics, step aerobics, body sculpting, circuit training, and other types of 'cardio' classes that have become popular.  Along with this, students will learn the motivational techniques that have proven effective in maintaining ongoing client participation.  Students will also gain the skills required in leading a class through a warm-up, workout and cool-down.
Sports Nutrition
For an athlete to reach their highest potential, all body systems must be perfectly tuned, in sync, and adequately fueled. Nothing is more important to your wellbeing and ability to perform exercise than proper nutrition.  With sports and athletes becoming increasingly competitive, more and more stress is being placed on performance nutrition and supplementation.
Eating the right foods will help you to maintain a desirable body weight and stay physically fit, however, without the right foods, even physical conditioning and expert coaching won't be enough to reach optimal fitness. Good nutrition must be a key part of any training program to perform at optimal levels. Students will learn the role of nutrition in maximizing physical performance, promoting health, and controlling body weight.
Heartsaver First Aid, CPR,  AED
The Heartsaver First Aid, CPR, AED course meets the requirements for state licensure ( NJ, NY, PA ). The course will cover adult and pediatric CPR (including two-rescuer scenarios and use of the bag mask or ambu medibag), foreign-body airway obstruction (choking) and Automated External Defibrillation (AED).
This course also includes General Principles of First Aid, Injury, Medical and Environmental Emergencies.
Students are issued an American Heart Association Course Completion Card with in two weeks of course completion, Valid for 2 Years
Event Sports Massage
Learn specific event-related massage that will enable you to work on athletes and non-athletes at sporting events.  By using these specific massage techniques along with stretching, students will help athletes, and aspiring athletes to achieve their maximum performance, recover more quickly from an event, and reduce potential injury.  Students will also learn to market these techniques to athletes, thereby increasing their client base.
Clinic and Internship
Student Clinic- Massage Technique Practice
Clinic provides students with an invaluable opportunity to apply their classroom learning in a modified and supervised professional setting. While enhancing their hands-on massage skills, students gain experience in working with a variety of body types and physical conditions. Clinic has also proven to be a tremendous confidence builder, as students must complete a minimum of 100 clinic hours as well as a 2-hour orientation; scheduled with the Clinic Coordinator.
Exercise Internship
This internship will provide the student will an opportunity to apply their classroom knowledge in a supervised setting. Students will work on fitness testing, designing programs, and perhaps lead classes to a variety of age groups, special populations and/or athletes. Site and hours are to be arranged by your advisor.