A new continuing education class has been added at ITM, and we are very excited to make the announcement, for while it is an age old technique, it is just beginning to get the recognition it deserves here in the United States. The class is accredited for NCBTMB National CEU credits, and is good for therapists who have a New Jersey Certification, New York License, or practice in other states.
The poultice is a small, unique, handheld tool that combines heat and several different organic herbs that can be absorbed by the body & help reduce aches & pains, stimulate circulation, increase lymphatic drainage, detoxify & condition the skin. It is a great way for therapists to bring a spa oriented treatment into the home with ease and minimal cost, as well as helping to preserve your hands.
Dating back to 14th Century Thailand, and uses deep heat and medicinal herbs to treat tired, aching, injured muscles. Originally, hot packs were administered to soldiers of war  returning from battle, and through a natural evolution over centuries, the basic concepts remain an integral part of Thai Medicine today.
The heat, when combined with several different organic herbs, combine to be absorbed by the body & help reduce aches & pains, stimulate circulation, increase lymphatic drainage, detoxify & condition the skin.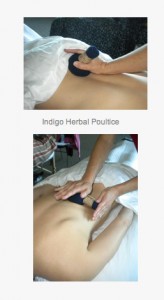 Not only used in Thailand, the tradition of using herbs to heal the body dates back centuries, and has roots in Indian Ayurvedic Healing Systems, as well as Chinese practices.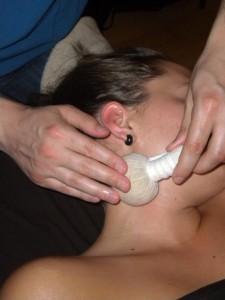 POULTICE – The Poultice itself comes with different herbal mixtures, designed for different uses, which include:
The "Original" Herbal Poultice – revitalizing /energizing. While the hot poultice opens the pores, a balancing fusion of lemongrass, bergamot, ginger, turmeric and camphor brings a deep medicinal heat to the muscles to release tension and revitalize the mind.
Calming Herbal Poultice – calming / balancing. Sweet Basil, Vetiver & Pikul Flower relax the mind, while Thai Ginger & Camphor ease away muscular tension.
Indigo Herbal Poultice – healing. Indigo grows wild & was used by the Native Americans for detoxifcation & healing. Indigo Leaf and Yaa Nang from tropical forest ease muscle tension while cinnamon and camphor stimulate blood circulation. Indigo, the color of Buddha of Medicine, also acts as chromotherapy on the body & leaves the body soothed & relaxed.
Coconut Poultice – soothing / conditioning. Coconut helps to combat dry skin, black sesame seeds are rich in mineral including calcium and iron and coconut also known as "Tree of Life" is filled with Vitamin E and K that prevents aging & deeply nourishes the skin.
Restorative Herbal Cushion & Cranial Herbal Poultice – head / neck recovery. Designed for the face, neck, shoulders and head, the Cranial Poultice releases a balancing and detoxifying fusion of Lemongrass, Bergamot, Ginger and Camphor to ease away tension where it manifests most and bring energy back to the body & mind.
Restorative Eye Poultice – reduce puffiness & dark circles. Specifically designed to revive and condition this Eye Poultice helps to combat puffiness, dark circles and fine lines of the delicate eye area. Java Apple contains 100x more Vitamin C than Orange; Patchouli and Geranium soothe irritated epidermis and rejuvenate aging skin, while Roselle smoothes fine lines and improves skin clarity.