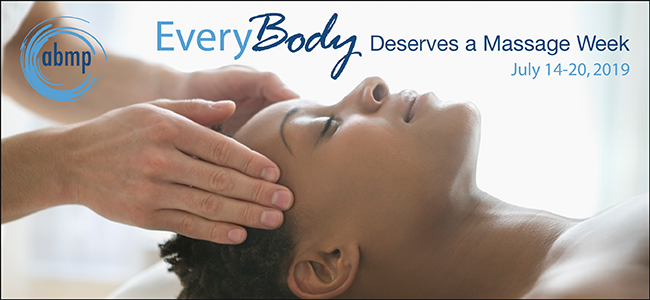 Celebrate EveryBody Deserves Massage Week

EveryBody Deserves Massage week is July 14-20. The intention of EveryBody Deserves Massage week is to inform the public about the many health benefits of massage therapy.
If you already have received massage, this may not be news to you. There are a variety of medical conditions and health reasons that individuals seek massage therapy treatment for.
If you have never received therapeutic massage, you may wonder DOES massage REALLY have health benefits?
Massage therapy is a growing treatment option: 88 percent of individuals view massage as being beneficial to overall health and wellness. Many options can help you reach the outcome you had in mind, but few offer the same benefits of massage.
Here are four reasons to celebrate massage during EveryBody Deserves Massage week.

1) Massage Helps Improve Anxiety + Mood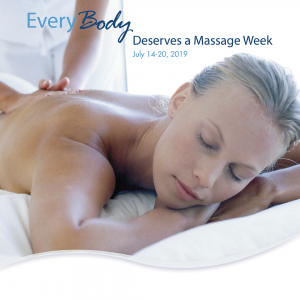 Did you know the evidence that massage therapy can help relieve anxiety and improve mood is a strong finding in research?
With the many stresses of life, it's important to NOT let tension build up. Opting for regular massage as a part of your health and wellness routine may help improve your overall mood.
For those with mental health issues such as state anxiety, generalized anxiety, depression, or other mental health issues, massage may be a helpful treatment option.
A caring and qualified expert will focus on the parts of your body that hold the most tension, and you will notice the difference right away. Working with a qualified massage therapist is a smart choice you won't want to overlook if you value your well-being.
2) Massage Therapy for Pain Relief
Did you know that massage is gaining traction as an alternative to opioids for pain?
A massage school graduate can help if you have pain that you want to address as soon as possible. Since paint can reduce your mobility and decrease the quality of your life, getting fast help is the path you will want to take.
Going to an expert who has graduated from a massage school will let you get rid of your discomfort sooner than you once thought possible. Let your massage therapist know about your pain and what you would like to achieve if you want to have a positive experience. Most people are impressed when they see what a monthly massage can do for them, and you will likely feel the same way.
3) Sleep Better with Massage
Sleep is crucial for physical and mental well-being. Still, many struggle with sleep disorders. Having insomnia can impact your life in many negative ways unless you do something to stop the problem in its tracks. Getting massage therapy can reduce the symptoms of insomnia and help you get enough rest to feel restored when you wake up in the morning. Falling and staying asleep can improve your energy, focus, willpower and more, so you don't want to ignore the dangers of insomnia.
4) Massage Is The Kind of Health Care That Makes You Smile
Going to visit health care providers can bring mixed feelings. It is common for people to feel nervous about visiting a health care provider.
Massage is different. Many massage clients look forward to their treatments.
For many, the relaxation effects of massage are immediate. Massage feels good, and it can be a lot of fun to receive your treatment. Massage clients leave smiling and reinvigorated.
Final Thoughts
Overlooking the benefits of massage therapy is a mistake you don't want to make. Getting one massage each month might not seem like much, but it will give you impressive results in no time. Whether you wish to reduce stress, combat insomnia or overcome joint pain, massage therapy is the answer.
We'd love to see you at student clinic!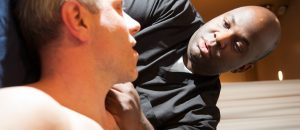 ---
Take the First Step to a Career You'll Love