Clinic Guidelines
We want the clinic experience to be enjoyable for both you and your massage therapy student. Below are the basic rules for visiting one of our clinics. You can review our policies and procedures specific to COVID-19 here.
You must be at least 18 years old.
An appointment is required.

Space is limited, so please call early for an appointment.

Cancellations:

As a courtesy, please give us at least 48 hours notice. There are people on the waiting list who would appreciate your space, and no-shows result in students missing valuable practice time.



Confirmations:

Feel free to call and confirm your appointment; however, we do try to call and remind our clients of their upcoming appointments.
Make an Appointment
Call the location nearest to you or follow the links below for directions.
When calling, please keep in mind that when the massage clinic is not in session, there may not be someone manning the telephone in the office. We understand that some people do not like to leave messages, however, it is the quickest and easiest way to reach us. We do check our messages often, and promise to return your call as soon as we can.
About Us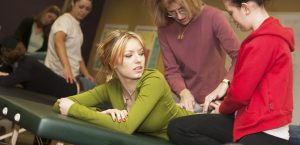 The Institute for Therapeutic Massage was established in Pompton Lakes, NJ, in 1994 by Lisa Helbig, LMT. (Licensed Massage Therapist), and was approved by the New Jersey Department of Education. The school became accredited by the Commission on Massage Therapy Accreditation (COMTA) in 2001. Our primary focus is massage education and helping students become massage therapists. ITM's Student Clinic offers discounted Swedish massage sessions for $35.00 per hour (tax included). Our students perform the massage under the supervision of a Certified Massage Therapist / Clinical Supervisor.
Before beginning their clinic rotation, our students are thoroughly tested by their instructors, and have been deemed to be proficient in their hands-on skills.
Get updates and special offers on our student clinics!