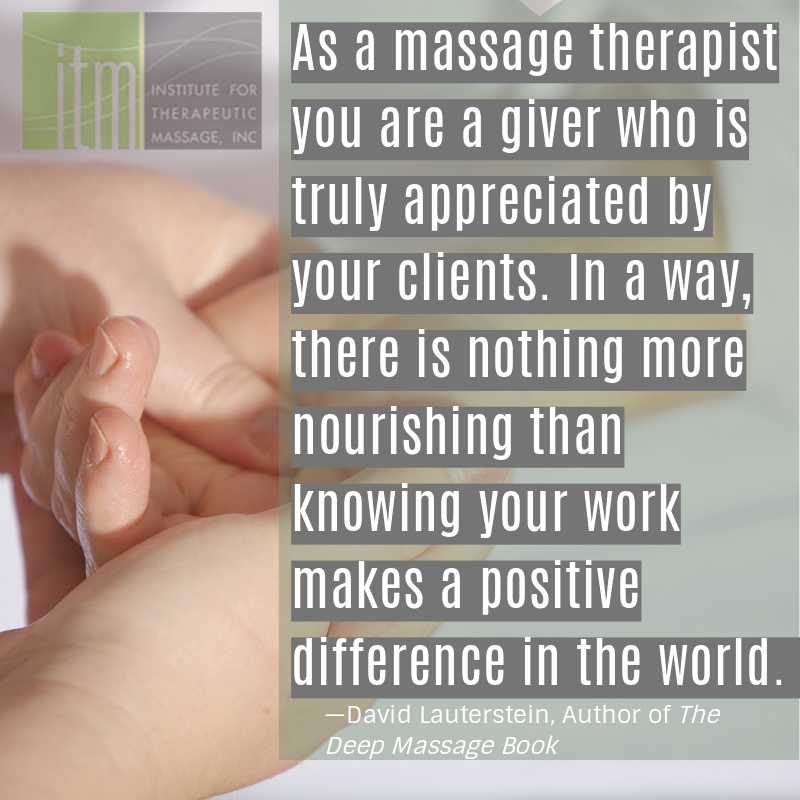 Top Reasons Massage Therapists Love Their Jobs
Factors to Consider if You are Deciding Whether to Become a Massage Therapist
At ITM, we understand that the decision to go to massage school also involves a commitment about your career. It is not just the education but also the job you are after, and you want to make this choice wisely. Before you can choose the right school, you may ask yourself if you are ready to become a massage therapist. Our career paths help define our lives. For many of us, career decisions involve a bit of soul searching.
If you are trying to decide whether to become a massage therapist, it can be helpful to consider the top reasons massage therapists say they love their jobs.
A Purpose Driven Life
There's a Chinese saying: "If you want happiness for a lifetime, help somebody." 
Do you find yourself wishing for a purpose driven life? Do you want a career that fits your lifestyle? What gives you meaning in life?
Western culture values speed, technology, and consumer cravings. Still, many of us yearn for deeper meaning. We want to feel like our lives mean something. We want to know we make a positive difference.
Several studies have shown ways helping others can boost our sense of happiness. Having a sense of meaning in life appears to nurture us. Studies link having a sense of meaning to good health, healthy behaviors, longer lives, and improved quality of life.  Other studies show having a sense of life purpose tied with lower rates of mental illness, including depression and post-traumatic stress disorder (Health Psychology Review, Vol. 11, No. 4, 2017).
Should You Become A Massage Therapist?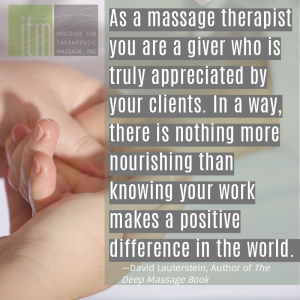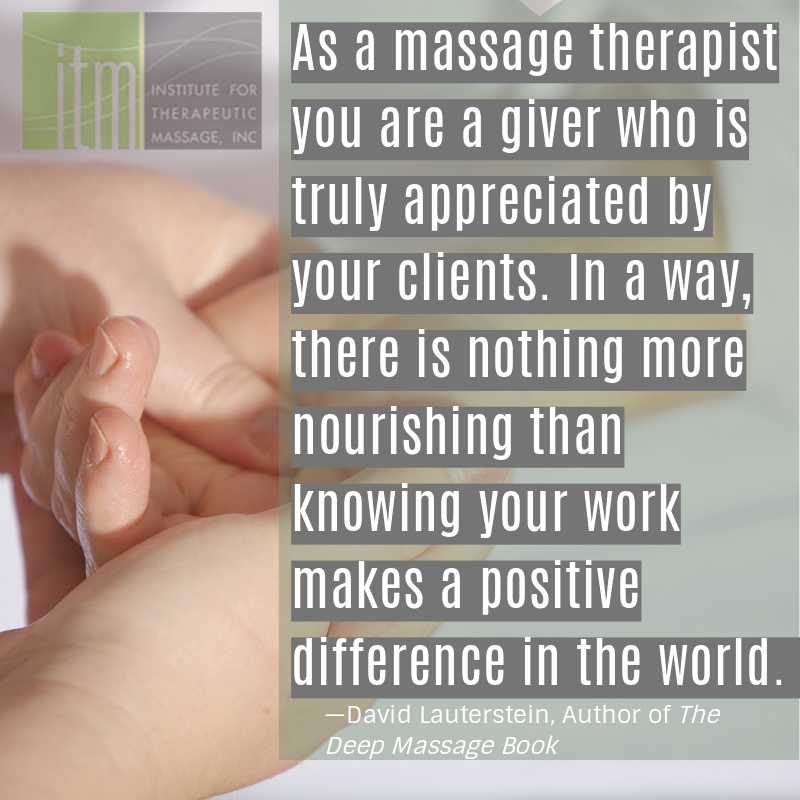 Choosing a career that involves helping others offers a highly rewarding and meaningful path. Massage therapy professionals uniquely help their clients. 
The kind of work massage therapists train in can be both nourishing and nurturing—to both the receivers and the givers.
"As a massage therapist you are a giver who is truly appreciated by your clients. In a way, there is nothing more nourishing than knowing your work makes a positive difference in the world," writes author of The Deep Massage Book David Lauterstein. 
The decision to become a massage therapist involves a commitment to a health career, and you may wonder if this is a right fit. 
Here are the factors that massage therapists themselves state as the main advantages of their careers.
What Matters Most to Massage Therapists
#1: Helping Clients Feel Better
Massage therapists get to help clients' improve their physical and mental well-being, and they treat clients holistically: as a whole person. Findings from a recent survey of 1,200 massage therapists show clearly: massage therapists are confident their work makes a positive difference. 
According to the study, 99% of massage therapists reported they believe their work has a positive impact on their clients.
Bodyworkers rated how important a variety of factors are to their overall job satisfaction. 
Massage therapists identified "helping clients feels better" as the most important factor to their job satisfaction. In fact, 57% of the respondents said it was extremely important. The type of care giving massage therapists provide differs from other health care.
Therapeutic massage clients look forward to receiving treatment. Massage therapy brings joy to clients while helping them relax. Some massage therapists feel motivated to help others and derive job satisfaction from the positive outcomes experienced by their clients. 
#2: Job Security
The massage therapists surveyed rated "job security" as the second most important factor for career satisfaction—even ahead of income.
Massage therapists may derive job security from their work for a few reasons. One aspect many massage professionals love is the "humane" nature of massage therapy. Some aspects of massage therapy are hard to replace with technology. The occupational outlook and diversity of settings for massage therapists may also contribute to job security for massage therapists.
Bodyworkers may derive a sense of independence or self-reliance after learning their skills, and this may also lend to overall job security and career satisfaction.
Lastly, many massage therapists find it easy to find work. According to the survey, 84% of massage therapists were able to find a job in a month or less after completing massage therapy school. 
#3: Good Pay
Massage therapists enjoy competitive compared to other healthcare support positions, and the occupational outlook for massage therapists is bright. Massage therapists rank pay highly for contributing to their job satisfaction. Many quickly realize a return on the investment on their education. As the study discusses, massage school compared to other options in higher education tends to be less expensive, shorter in duration, and involving less debt compared to other educational options. It is also important to note that many massage therapists work part-time to still derive their levels of income.
#4: Flexibility
Among the top factors, being able to have a flexible schedule contributes to job satisfaction for many massage therapists.
Massage therapists get to define their niche. There are many different type of specialties you can have as a massage therapist. There are also different types of settings in which you may work, which may allow you to balance your career with other work-life goals.
Conclusion: High Job Satisfaction for Massage Therapists
Overall, the findings from this recent survey reveal that there is a high level of job satisfaction for massage therapists. 88% of massage therapists reported feeling very satisfied or satisfied with their career.
Are you are interested in exploring more about becoming a massage therapist? You can reach out to our admissions director, Pat Russo, with questions at pat@massageprogram.com or at 973.839.6131.
For questions about how to choose the right massage therapy school, our blog post, "How to Choose the Right Massage Therapy School" may also be useful for addressing common questions.

Attribution: Infographic by massagetablesnow.com.